If there's one thing that differentiates an influencer from anyone else on the internet, it's how they interact with their followers. No one understands this concept more than the creative on this week's Spotlight, Sadek Lunique (@sadeklunique). After all, social media is a two-way street! Sadek explained his unique relationship with the followers of his amazing men's style account as follows: "I don't call them my followers, I call them my supporters. When you work hard and you have passion in what you're doing with the platform that we have there's always people who are going to see what you're doing and support you…they push me forward." As all creatives know, so much of your value to brands is determined by a number, but the way you find value you channel is more often the interaction you have with the community you've built of people who appreciate and recognize your hustle.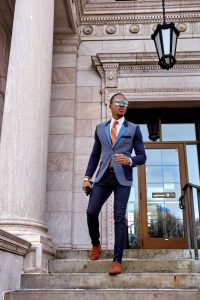 Take one look at Sadek's account, and you'll know you've found something special. His style originates from his upbringing in the French colony of Tongo. "If you look at my style, its more European. It's unique," Sadek says. While his niche lies mostly in dapper gentlemen's style, Sadek keeps his supporters on their toes with a range of colorful looks and some dabbling in streetwear.
---
Alongside his unique upbringing, he also has mastered not one, not two, but FOUR languages. Worldly, intellectual, and stylish…we swoon!  
---
The touches of european flare are a definitive stand-out attribute for the now-resident of Minnesota. If there's one thing we know about Minnesota, it's that they have some serious seasonal changes. (We're from LA, so you know, *can't relate*) We learned from Sadek that seasons can be about more than just putting on sweatshirt. We asked how such diverse seasons affected his style pairings, to which he explained, "One thing about me is that every style I wear or that I show off on my platform, I'm always going for creativity. What can I put out there that people have seen before, but have never seen it put together that way. I think that's kind of the signature of my brand. When it comes to putting on clothes and coats and mixing and matching, I really play with colors. So for the seasons, I play a lot with the colors of what's happening around me."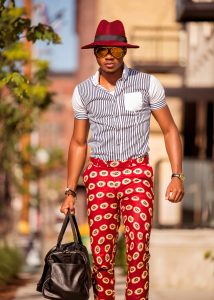 Sadek is a true visionary. Fashion and style is something that runs through veins. "I think it's something that just happens in my mind," Sadek says. If style was a sport, Sadek is a Lebron in the game. One of the hardest things about being an influencer is just how much content you have to come up with to stay relevant in the social media world. However, this is more of a challenge than a problem for Sadek. "I dream style all the time. I'm always thinking what can I bring forward to my supporters" Challenge accepted and completed…every time. Thank you, next.
Let's talk supporters. Sadek has been building a relationship with his followers since he started playing the influencer game. In fact, supporters played a major role in Sadek's influencer career when they brought him to the attention of an apparel brand. "The second brand ambassador deal I got, for Fashion Nova Men, was because of my supporters." Sadek explained how his followers brought his content to the attention of Fashion Nova by tagging [fashion nova men] in the comments on his post until they reached out and offered him a deal as an ambassador. Talk about an amazing support system!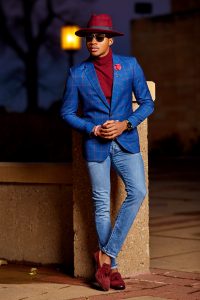 We asked about how his style has evolved over the years. "It definitely has changed. It changed because my followers were challenging me. And that's the whole reason why." When he says challenged, he means they literally dared him to come up with something new.
Hustle is something we recognize and value at The Plug, which is why Sadek stood out to us. His endless hustle is impossible to ignore and it's what brought him the level of success he's reached so far. According to Sadek, if there's a recipe for success, hustle and passion are th two major ingredients. "To be honest it's more about loving what you're doing. You've got to have some passion." he discusses, "Every time I'm going to shoot with an actual photographer, I'm super excited the night before. That's how you know you like what you're doing. It's like do you want to put work into it? Because if the answer is yes, and you put the work into it, the results will come. And one thing about being an influencer is you have to be patient. It doesn't come overnight. That is a fact."
Check out Sadek's Instagram here –> @sadeklunique