For Aurora McCausland (@auroramccausland), life as an influencer began with a fun little husband and wife competition. "A few years ago, I had like 400 followers. My husband had about 700, and had been teasing me that he had more followers than me," Aurora says, "So, I decided I was going to grow my account to 1k to beat him." Today, @auroramccausland holds over thirty-six thousand followers and is continuing to grow her following every day. Safe to say she's winning this one.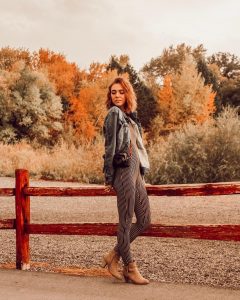 Based in Utah, Aurora and her husband continue to work together on her content as well as take care of their adorable child. Aurora is the mother of a toddler who occasionally makes the cutest featured appearances on her Instagram account. If being a mom is a full-time job, Aurora must be three people in one. As a mom, a blogger, and a content writer/PR Manager for a marketing company in Utah, Aurora proves that the real superheroes in life are moms (MOM POWER!). When it comes to a typical work week, she is jam packed with work, spending quality time with her son and husband, and STILL has time to make amazing content. "Honestly, a typical week for me is pretty busy! I also work full time as content writer/Pr Manager for a marketing company locally. I go into the office to work Monday, Wednesday, and half of Thursday every week. The other two and a half days I'm at home," she explains, "I try not to work while my toddler is awake, which is honestly a real struggle. He naps for about 2-3 hours every day, so I get all of my emailing/blogging/instagramming done during those hours. When my husband and I are both off work on the weekends, we shoot content together. I try to shoot enough to last me the whole week so I don't have to worry about that throughout the week, and can focus on my son."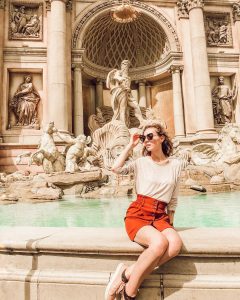 Talk about amazing time management skills! To. The. Max.
Just in case you thought that wasn't enough, Aurora also has a clothing company that she operates as well. Juniper Oak Clothing is a clothing brand that Aurora started that finds a wonderful (and money conscious!) way to stand out from the other brands based in Utah. She tells us, "I live in Utah, and there are sooo many clothing companies here. But they all look the same. Their clothes are overpriced and every boutique has the same clothes and uses the same models. I wanted to start a company that offered diverse clothing at an actually affordable price. Everything in our store is under $50, and I plan to keep it that way." Can you say #ladyboss?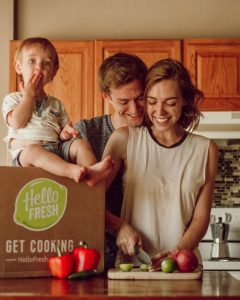 Although her husband and son do help out with her blog and socials, she still keeps much of her family life private. "I don't want to plaster my child all over the internet just for his sake. I also don't share a lot about my relationship with my husband, because it's intimate and not all of it needs to be out in the open." We totally get this, buuuuut we selfishly will always want more adorable fam posts!
So, by now you've got to be asking yourself: How does she do it? We had the same question, so we asked Aurora what kinds of tools she uses to stay so organized! "I use the app Plann to schedule my Instagram content which has been a game changer for me. It's free and doesn't limit the amount of monthly uploads, which is super important since I will re-edit a photo a few times until I'm sure it will look good in my feed. Aside from that, I have a planner, notebook, desktop calendar, as well as the notes and calendar app in my phone where I write down deadlines, invoices, upcoming content, and content ideas." *Immediately jumps to the App Store to download*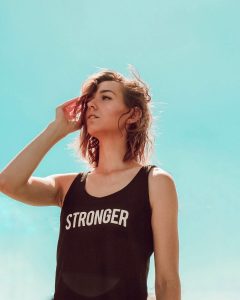 Aurora's content speaks for itself, but the underlying message from following her life is truly something beautiful and positive. "I love getting to share my life with my followers. The biggest message I hope anyone could get from following me is acceptance and self love."
Aurora also gave us some really great advice for any moms out there who are looking to share their own journeys, but might be nervous about taking the leap. "My advice is honestly to just do it. Don't worry about who is reading it, don't worry about the numbers. At first, no one will follow you, no one will read it. If you're doing it for others, you won't love it. So just do it, and focus on creating what you want to create." Talk about killer advice! Moms tend to be really good at that.
The mom blogger community is a great way to meet new people, find parenting tricks and tips, and find a creative outlet for yourself with the support of other awesome moms. Aurora explains, "I love that my platform has turned into a career. A way for me to support my passions. I want to continue using my platform to be creative, honestly. I love creating things and hope that I never have to stop." With the help of social media, moms are finding a whole new way to share their creativity and knowledge without having to sacrifice time with their children and families.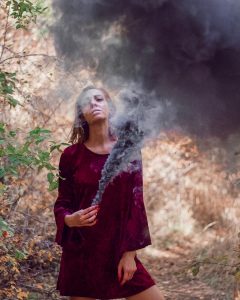 Finally, if you want to be a supermom there's one last requirement: you must be able to fit AT LEAST twenty grapes into your mouth at once. Kidding, but Aurora can do it and we think that's pretty darn cool (twenty-seven grapes to be exact, but who's counting?).