The holidays can be a hectic time (read: insane traffic, busy schedules, crowded airports, kids on break). But, if there's one thing we can all agree upon it's that we are thankful for our healthy family and friends this holiday season. This week's Spotlight feature on The Plug could not be more perfect for the family mindset because she is all about her wonderful family. Meet Betty and her adorable daughter, Ella, of @adaywithella ! Betty is another one of our supermom bloggers, and we couldn't think of a better person to feature for this Thanksgiving week.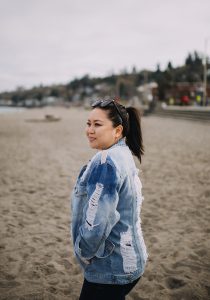 Betty and her husband live together with the lovely Ella in Seattle, Washington. Betty got started out on her influencer journey as many moms do: by posting the cutest pics of her daughter! Before she knew it, Ella's photos were getting some real recognition! "I wanted to post pictures of my daughter without bugging my friends and family on Facebook, so I did it on Instagram and joined this community of super supportive women. As the account grew, it introduced us to brand opportunities and it started becoming more and more frequent. This year was when we sat down and said, 'Okay, it's not going to be a regular thing,' but it's something we can do." You already know what we're going to say…BUT we'll say it again..online communities are amazing and can actually help your brand flourish and grow!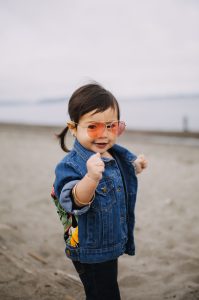 Betty found her online community of mom bloggers through the hashtag #momlife, and has developed an amazing relationship with these women that helped her through the early parenting days! "Seeing all the different products people were sharing really helped me as a first time mom to see things I wouldn't have seen otherwise. They really influenced me in seeing there are tons of products and tons of options, but there are products that are necessary and products that are just for show." She explains, "I think that was the biggest influence, using that network as a way to figure out what would work for me through their posts and suggestions. I think that's why influencers are so helpful. I would take a stranger who's a blogger and their story about a product over a commercial of that product, because they know the struggles of having no time, having to be mindful of expenses, and being really truthful in: does this work or not." Who knows the roller coaster experience of being a mom better than a mom, and we all know it takes a tribe.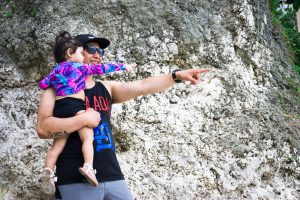 To take her relationship with other moms a step further, Betty started working with organization, Breastfeeding World. What started out as being an advocate, Betty now works with them spreading awareness and organizing events around the world to help others understand the natural phenomenon that is breastfeeding. "I had a hard time connecting with moms of my generation in my culture, so I connected with moms on Instagram. One of the groups that reached out to me to help with their blog was Breastfeeding World. At the time, I was nursing and working so I knew the complications with working parents who breastfeed but don't have their child there. I got into it because there was a whole different world of support when it came to understanding my body and breastfeeding. Breastfeeding World became the big turning point for me being involved in advocacy." We always talk about creatives helping other creatives in The Plug community, but Betty takes that notion one step further. We are all for the support of moms in any and every community!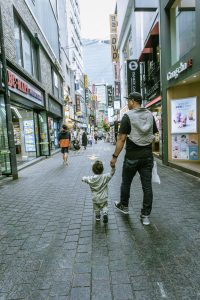 If there's one thing we understood about Betty from speaking with her, it was how important her family is. Working and parenting can be not only stressful, but it can be difficult to spend time away from your child. Betty spoke on her experience with this and how becoming an influencer helped solve some of these problems. "Working my really nice corporate job was great, but it was super stressful having two working parents and trying to do the daycare thing. Our highlight was finding that there are brands out there who want to work with us and that it is possible for a mom, or anyone, to work from home if they felt that that was a better environment to grow or make an income. Being able to be in one place and spend more time together, that's the biggest highlight for us in this whole thing." Can you say family goals?
Looking at the @adaywithella account, you'll find just about the cutest child photos you'll ever see. Photographing kids isn't always easy, so we asked Betty what her process was for picture time with Ella. For them, it's a family affair and a great way to spend time with one another outside of the hectic weekday schedule. She told us, " The first time, I take a video of her because her reaction is priceless. I let her see the product and play with it before we do the actual picture taking so that she can get comfortable. When it's time to shoot its something familiar for her." Does this technique work for dog moms too? Asking for a friend.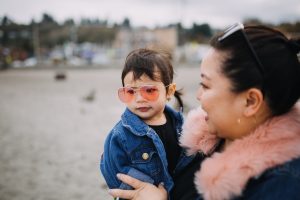 So what's next for this amazing mom? Betty wants to return the favors that other mom bloggers have done for her and bring the information to her home community in Guam! "My goal is to have a similar platform that breastfeeding world is giving to moms here in the states, for the community I have back home. We want to empower moms and hear their stories, and have a small portion of that be our personal blog where we can do the product reviews and share all the latest announcements." We couldn't be more excited to see how far this supermom goes!
Thankful doesn't begin to cover how we feel for ALL our moms during this Thanksgiving season. Now everyone go home and tell your mom (or moms) how thankful you are for them, because if they are anything like Betty, they deserve to hear it!