In this week's Tip Jar we talk to Emmanuela Okon, someone who has successfully made the leap from social media star to selling her own products. Read her tips for how to make the jump, what a typical day in her life looks like, and how she gets brands to notice her!
Q: How did you make the transition from content creator to entrepreneur?
The funny thing is I never really had the intention of selling my own products/services so soon. I mean, there are times I had thought about it, but I never really saw it coming since I had officially started creating online content in 2017. As a result of my three-year experience with helping other brands promote and sell their products, 2020 was the year it felt just right for me to give back to my audience directly. I began selling ebooks on my blog stylebyemmanuela.com in March 2020 to better assist newbie content creators and established creators on what it means to put yourself out there and create quality content. Starting off selling ebooks helped me build momentum into this entrepreneurship lifestyle and since then, my motto has been "from digital creator to entrepreneur". I truly love helping people navigate their way through social media and what better way to do this than by providing them with useful resources that I may have not easily found when I first started in 2017?
Not to mention, the momentum to strive for entrepreneurship has also resulted in the birth of my upcoming brand called 'E's Element'. I have always wanted to start this, and it's so remarkable that my creative juice has been flowing so much ever since the pandemic began. This is truly a blessing in disguise for me!
Q: What does an ideal day or week in your life look like?
An ideal day in my life would involve me regularly going through emails, preparing content for my Instagram as well as managing expenses for my upcoming brand. Personally, I handle the admin work and finances of my brand and the workload can seem overwhelming. In order not to lose touch with my sanity during the day, I have been working out a lot more at home. This helps me stay on track and just prevents me from being glued to my laptop screen all day. I can totally relate to anyone out there who always feels the need to be productive every day, but I have learned to set some limits to avoid burnout.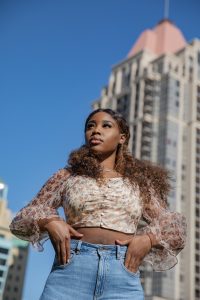 Q: Do you have any tips for getting brands to notice/work with you?
My advice would be to put yourself first and begin pitching your work directly to brands. This is something I discuss in-depth in my ebook: 'How to Confidently Pitch Yourself to Brands in 2020'.  However, before pitching yourself to brands, it is important you develop an online portfolio, this can be in the form of your social media profile (e.g. Instagram page, Blog) or by simply designing a media kit with listed proof of your authenticity. Below is an excerpt from my ebook 'How to Confidently Pitch Yourself to Brands' on the DO's when trying to approach brands. Curious about the DONT's?. Click here to check out the full ebook.
Q: What are your favorite apps for productivity and structuring content?
I have a ton of apps I love using. A few of my favorites for photo/video editing include Prequel, Canva, Snapseed, Splice, Polarr. For a full list of my highly recommended apps for content creation, click here to see 10 free apps you can use to improve your Instagram content. For more productivity apps, that have helped my creative journey > click here for more options in my free ebook.
Q: What are your current favorite fashion brands or trends?
My favorite fashion brands include Topshop, Dynamite Clothing, Shein, Urban Outfitters. The list goes on and on!
For trends, I'd say I love matching sets (two-piece outfit), chunky sneakers and boots and I do love quality jewelry pieces! 
Q: Anything else you would like to add?
Nothing more, but if you would like to keep up with me, below are the various social media channels you can find me! 🙂 Loved sharing my thoughts and experiences here. Shoutout to The Plug by XOMAd Team.
MY SOCIAL MEDIA LINKS
Personal Instagram: https://www.instagram.com/ellahh/?hl=en
Brand Website: https://ellaelement.shop/  
Brand Instagram: https://www.instagram.com/ellaelement.shop/
Blog – http://stylebyemmanuela.com/
Fitness Instagram: https://www.instagram.com/healthbyemmanuela/
Youtube Channel: Youtube.com/EmmanuelaOkon
Twitter: https://twitter.com/Ellahh_O
Facebook page: https://www.facebook.com/stylebyemmanuela