In this week's Tip Jar post, we have fashion blogger duo Elissa and Cristina of Public Display of Apparel, who detail how they set up at-home photoshoots, how they grew their account's following, and how they keep themselves posting regularly.
Q: How do you keep yourselves posting regularly?
In order to stay organized and posting regularly, we've created an editorial calendar. In it, we've built a visual preview of what our Instagram feed will look like and all the details for our upcoming posts. The feed preview helps keep our aesthetic balanced, as well as determine how we will roll out content in other platforms. For every upcoming post we include our copy for the caption, and if working on a brand campaign, we drop in the campaign's requirements so we can reference it as we work through copy. We also include the date/time for scheduling the post, location, and tags.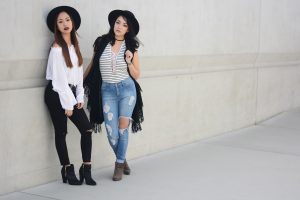 Q: How do you set up your photoshoots?
It really depends on the type of shoot, but we always prep by creating mood boards that include photography inspiration, location of where our shoot will take place, any props we might utilize, and how many images we plan on capturing per look or product. Indoor vs. outdoor will also require different equipment. For an indoor shoot we utilize natural and artificial lighting (we have a ring light), backdrops, tripods, and props around our environment (usually things in our homes). For an outdoor shoot, we typically do them during the day and mainly have to worry about having good lighting (afternoons are better so the light isn't as harsh) and a good camera (we prefer DSLR).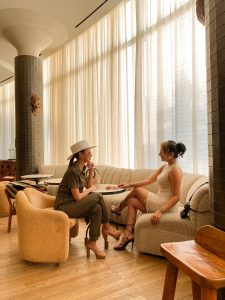 Q: What tips do you have for creating at-home photoshoots?
There's a couple of tips we have:
The first key thing is finding spaces at your home with good natural lighting. 

Second, have a good camera like a newer iPhone or DSLR. Tripods are your best friend if you want to capture content by yourself. 

Third, having a minimal background or area that can serve as a space where you can create different environments in a home is a must. We also recommend investing in stretchy fabric to use as backdrops and for flatlays, as this way it won't wrinkle. 

Lastly we also suggest investing in a large mirror for outfit selfies. The placement of that mirror can really elevate a picture if the reflection of that background has a good and clean aesthetic. 

 
Q: How do you balance your job and your side hustle?
Staying organized and planning ahead is how we are able to balance it all. We keep a ton of lists, working documents, and a calendar that helps us keep it all straight and content flowing. Since there are two of us we are sure to keep the workload balanced and over-communicate so that it's not too much on one person alone.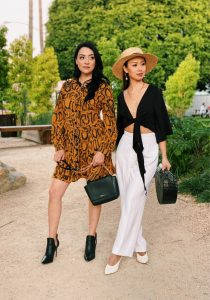 Q: How did you grow your following?
Posting consistently has been helpful for us to stay top of mind in our followers' feed. In our posts, we also use a mix of trending, popular, and niche hashtags but are sure to include these as a comment immediately after we post to not clutter the caption. Attending events has helped us with networking, which has resulted in some really great collaborations that have brought on organic growth. Lastly, one piece of advice we received at a conference which has worked for us, is attending or posting about relevant and trendy events & places. This helps pull in people who are also interested in the same, and want to stay on top of the latest.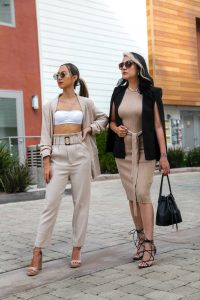 Q: Anything else you would like to add? 
Don't underestimate the amount of time and work that goes into creating content. That being said, one piece of advice we would give, is to be patient with the growth, collaborations, and opportunities. Anything that's good and worth it always takes, time, energy, and a lot of commitment.