The Plug is growing! We are so stoked to announce the two newest members of our team: Analysts, Kole Farrise & Stephen Ryder. You can catch Kole on the message board helping Pluggers get #connected! If you see him, make sure so say what's up! If you ever have questions as you're going through The Plug platform, Stephen is there to support you on LiveChat! Read on to get to know these two chaps a little better!
Let's start with something easy, where are you from?
Stephen: I'm from Aurora llinios!
Kole: I'm from Santa Monica California!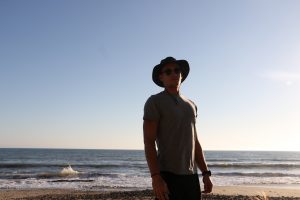 Let's dive a little deeper, where did you go to college? What class did you take that was the most impact?
Stephen: I studied music performance with an emphasis on Basson at UCLA. My favorite class was The Ethics of Stem Cell Research because it's a very contested issue and gave me a wider perspective on the matter of stem cells.
Kole: I studied Economics and History at Pitzer College. Macroeconomic Theory was my favorite class because I learned the most in that course even though it was very difficult. It solidified why I wanted to be an Economics major. Plug, my professor worked at the IMF, which is pretty darn cool. 
What do you enjoy the most about / find most exciting about working for The Plug by XOMAD?
Stephen: I enjoy all the different types of people I get to talk to and ultimately help to with developing their own business and brands.
Kole: My co-workers…as well as the snack closet lol. Everyone at XOMAD is so friendly and open-minded, it's a great work environment!
What's your dream job? OR, what did you want to be when you grew up?
Stephen: Famous Orchestral Bassoonist, Famous Stand-up Comic, or Plummer.
Kole: I wanted to be an astronaut. But science wasn't my thing so that dream died rather quickly.
How would your best friend describe you?
Stephen: Considerate, funny, and contrarian.
Kole: Adventurous.
What do you love doing outside the office? Hobbies? Random interests?
Stephen: My interests outside of the office include reading fiction, learning to (poorly) cook new recipes, and finding dogs to wrestle with.
Kole: I love to go to the beach or go for a long hike in the mountains. Backpacking in particular is my favorite thing to do when I have time and can plan a trip out.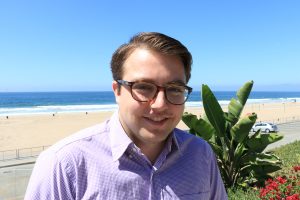 Leave us with a fun fact!
Stephen: I have been out of the country only once and I went to China. It was very   nice
Kole: I've hiked on Europe's largest glacier!!!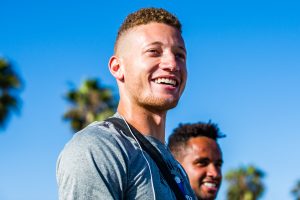 Find them both on IG! @kolefarrise & @iamtheryder