"I try to do more positive things so people are encouraged to be true to themselves!" is the perfect quote describe the personality coming from this week's The Plug Spotlight! We are so excited to feature Plugger, Kristina Coelho, aka @laughloveandhippie…and let us tell you, she is the sweetest, most genuine, beautiful-souled creative we've met! Her motivation for being a beauty blogger goes so far beyond makeup reviews and tutorials (and you'll never guess how she got started!). She is an inspiration for staying genuine and true to who you are in a cyberspace that can so easily promote touch ups, facetunes, and insecurity. Kristina told us about how she's developed her blog, where she gets her inspiration (hint: COMMUNITY IS EVERYTHING!) and what she hopes she can contribute to the influencer world. Read on to see new depths from this beauty blogger!
Did you decide to become an influencer? How did you start? Was there someone or something that who inspired you?
Well, I was always big on reading reviews and watching youtube videos for my own self to learn. I mean it kind of all started with Yelp…I know that sounds weird but I'd always go on there to read people's reviews and that influenced me to go try out those restaurants or stores and I always contributed to writing my own reviews. I was just you know what I'm obsessed with makeup and beauty, I should just start my own blog to help other people out when it comes to them purchasing products or what makeup to buy. So that's kinda how I started my blog. It was just doing reviews on makeup and it turned into just like way more than i expected with like fashion and stuff like that. So, I kind of just played off of that like doing reviews….Because I'm all about helping other people and I don't know, the reviews helped me out so I just kind of try to be as real and honest as I can with people and hopefully that helps them. I did post cooking or DIY crafts and no one really cared about that. They were like give me more makeup and clothes so I just kind of ditched all that.
When you first started your blog, did you have a goal in mind of what you wanted for it? Has that goal changed since then?
My goal was really just to help people when it came to makeup projects and it definitely has kind of changed. Instead of me doing more reviews, now I try to do more positive things so people are encouraged to be true to themselves. Like I go on camera without any makeup on to show people you're not perfect 24/7 and its okay. And i've kind of got more inspiration from people saying "oh you're an inspiration" by being like that so i'm kind of just playing off that more now. And the response has been way more rewarding than just like posting a makeup review. Like now i'll post doing my makeup and be saying you can try it! You can do it!  I'll show you how! And try to do more stuff like that.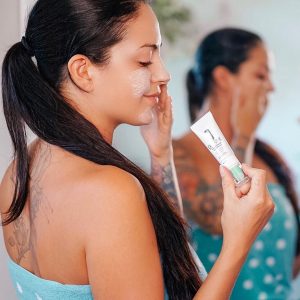 As a beauty and fashion influencer, how has your style evolved over the years?
Oh my gosh, just from starting out blogging like I never considered myself being a really fashionable person. I'm from California so im like jeans, flip flops, and a t-shirt kind of girl. But the more and more brands that reached out to me and were like oh would you rep our brand and stuff, it made me definitely step outside my comfort zone and try new things I never thought i'd be wearing. And from doing that i've learned hey I really like this. So it made me step out of what i'm normally used to and try new things.
Is there a person you derive style inspo from today?
Yes, so many bloggers. Like before I started blogging I never really followed style bloggers, mostly just makeup influencers. But, now that i'm getting more into the fashion side I definitely follow more bloggers and just kind of get inspiration from them like poses or places to take pictures at. I'll reach out to them if i have a question and they all are so nice. So i definitely get a lot of inspiration from other bloggers for sure.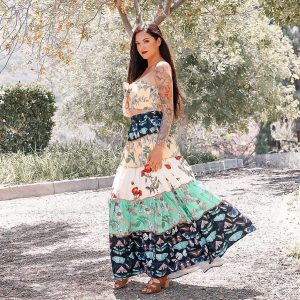 Where did you learn to do makeup? Is there somewhere you get inspo for your makeup looks?
Before i started blogging I was huge into watching YouTube videos and i've always been into makeup and doing it myself and just using that as a creative outlet. And I forsure watched so many beauty influencers on YouTube and learned from them and just practicing. So that was another reason why I was like i'm going to do YouTube, so that I can hopefully help someone out there too who maybe doesn't know how to do makeup because I feel like i'm still learning i'm not like a makeup artist, i don't consider myself one, I just like playing around with makeup and I just wanted to encourage people who are in the same boat as me, they're not makeup artists, makeup kind of freaks them out. Like no, you can do it! It doesn't have to be perfect, it's an art and just use it to express yourself.
How do you stay creatively inspired?
From just all the love in all the comments I get on the content I put out. Some days I'm just like with Instagram you lose so many followers some day and you gain some. I try to not let those things get to me because then I go back and i'll read the comments under some of the content that I have put out and when people tell me "Oh you did your makeup so good! You're such an inspiration", that still kind of trips me out. I'm like me? I'm an inspiration? So that really makes me want to do more and create more. And that really gives me a drive to be like okay someone out there is gonna like so I might as well put it out into the universe and see what happens because I feel like we're our biggest critic a lot of time. And one thing we might not think is perfect, someone else out there will be like "That's so cool" and that's why I just try to put myself out there and see what happens.
Tell us about Hippie Chick Productions!
I just recently started that and the reason is because i'm friends with a lot of other bloggers and they are always coming to me like "Oh will you come take a picture of me for my blog? I have no one to do it. My boyfriend or husband isn't around". Or a lot of them just take pictures and what i've experienced is that a lot of brands now want a video. Because it's kind of hard to just take a picture of makeup, like they want to see it in action. And a lot of these bloggers, they don't know where to start or they don't know how to edit a video. So I just kind of started that to help other bloggers. Like if you need help taking pictures and you have 4 or 5 outfits you need to get shot, lets go do that. I'm a blogger so i know, and you should feel comfortable with me trying to get the shot. And then with videos, if you need a video done i'll come help you shoot it. I'll help with the lighting and then i'll edit it for you. I mostly started it to help other bloggers just make their content better.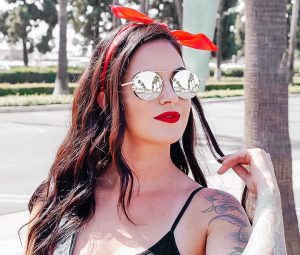 What is a typical work week like for you?
Well, i'm officially blogging full time. It's not paying the bills quite yet, but thankfully my husband let me do this full time. So typically my work week…i'm pretty much working every day creating content, editing videos, create videos. Today I actually went and filmed videos for a makeup brand that's local, so that was something i've never done before. I go to events when i'm invited to them and i'm just trying to do as much as i can helping other bloggers if they need it. So thats my typical work week. It's a 24/7 job because once I post on Instagram, I have to make sure i'm engaging for like the first hour and i'm on like all social medias. So, if im not on Instagram, i'm on YouTube commenting back to people or writing stuff for my blog. I'm all over the place really.
What message do you want to get across to your followers?
My message would be to just be yourself. I know that a lot of people say that but it's so true. You might look at other bloggers and compare yourself to them and be like ok I need to have the same filter on my photos because it's working for them or I need to represent this product even though I don't really like it. Like no! People want you to be real and honest because there's only one you and that's what makes everyone unique. Like I always say there's only one you and that's your superpower because it's so true. And yeah I just want people to be comfortable with themselves. Like the other day i wore black lipstick in a picture, and to some people it's like "oh my god i would never do that" and I never thought i would either, but i'm like just try it! Just do it! Who cares what other people think, it's what you like so just do what you want to do.
What has been the most challenging part of your experience as an influencer?
The most challenging part is probably just putting myself out there and letting people see my real personality. Because in real life i'm really kinda shy, but it kind of doesn't come across that on social media. And on my YouTube videos I try to show that more like if I screw up saying something i won't edit it out i'm like oh woops! Because that's real life and its not perfect 24/7, so that's kind of been the hardest part when I started doing videos like are people going to like me? Am I too nerdy? That's been the hardest part, but once I did it, it was like why haven't I done this sooner? Because someone out there is going to like it. Might as well see what happens. I just want people to be ok with doing them and just going for it!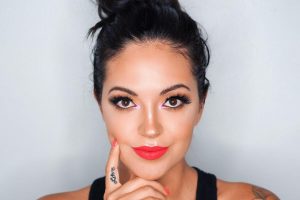 What have been some highlights of your time as an influencer?
The highlights have definitely been the people that i've met in real life and just over the internet that i've never even met that live in other states. Those connections are so cool and they are just like my biggest cheerleaders when they're just like "OMG this is so cool this video rocks!". Just today I put out on my Instagram story that I was filming for that brand and someone that i've known since I started blogging, i've never met them in real life, but they were just like "girl, you're so inspiring to me!" And to me i'm just like I am? It's just so weird to hear, but that's just been the most rewarding and all the people i've met through social media.
Is there a balance between your personal life and your blog that you like to keep?
Yeah, I've really kept like my marriage private. People know that i'm married and like sometimes i'll put my husband in an Instagram story just randomly. But i do try to keep that aspect private, I don't really post pictures of him on there because I feel like i'm not a lifestyle blogger so I try to keep it to beauty and fashion. Yeah, I like to keep him private, but whenever I do put him on one of my stories everyone is always so intrigued and people want to know more. I'm just like jeez people just want to know about your life, but I do keep that personal.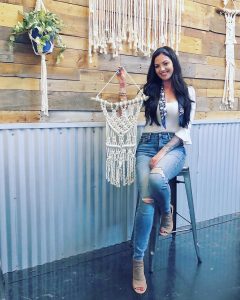 Do you have any advice for someone who wants to get into the influencer game today?
I would just say to be consistent and if you don't have anything that you can post or blog about, dont. Because usually that means it's probably not going to be your best work. So I would definitely say quality over quantity and just put out your best work. If it's an outfit you have to post, go to like a super cool location and just really take the time to produce quality content and just be consistent. Yeah, just put yourself out there.
What is the end goal for your platform?
Jeez, i've never really thought about an end goal because I just really want to try and keep doing this and inspire people. And I guess the end goal would be like having collabs with big makeup brands or traveling the world with makeup brands, but if it doesn't get to that i'm totally okay with that and just doing my own thing and just inspiring people to do their thing and be themselves. Like I totally can see myself being a grandma blogger. I've joked about it with friends.
What's something people may not know about you just from following your blog?
Well maybe a fun fact would be like i'm so much into makeup, but I actually prefer not wearing it. And that might be surprising to people, but i'd rather be wearing no makeup than have like a full face. I'm totally comfortable going somewhere without makeup, even if I have like a huge zit I don't care. I just like my skin to breathe.  
Find Kristina on Instagram @laughloveandhippie and YouTube Laugh Love & Hippie
Find Hippie Chick Productions @hippiechickproductions