Have you ever had a dream to create something and put it out into the world? It can be scary taking that leap to make your ideas a reality, but the creative this week in The Plug's Spotlight is proof that there really are no limits to what YOU can accomplish when you're a true hustler! Meet Natasha Asante aka @natashante, the #LADYBOSS CEO, founder, and designer behind the clothing brand HUE.
Natasha gave us inspiring insight into what it takes to make your passion your career, how social media plays a role in entrepreneurship, and the importance of teamwork when building a company. She also talked about her unique, color-driven vision behind HUE and her amazing drive to become a successful artist AND business woman. She's a woman who's doing the most and is absolutely killin' it! Read on to learn more about the incredible Natasha!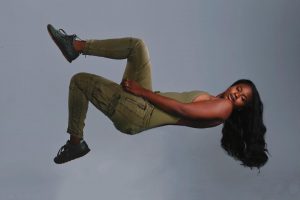 Did you decide to become an influencer? How did you start? Was there someone or something that who inspired you?
I really decided that I…well I was originally an artist, so I decided I should take the opportunity to expand my image and my brand and to becoming more myself, but in a way relating to people so they could understand my style and basically what I like to do which was art and graphic design. Then I eventually expanded that into other areas like fashion and style.
Is there someone who inspired you artistically?
I would say originally it was family members like my grandma and uncle. He's an established artist and my grandma taught me how to sew. So those two came hand-in-hand.
Has the goal for your platform changed since you started?
I would say that I started to focus more so on creating better content than focus on follower count. I was putting more focus on content people were able to engage with or interact with so that it could improve my audience and all that stuff.
How do you balance your work schedule as a content creator and a business owner?
I will say it is hard. I'm still learning how to balance it. But one thing i've learned is time management and just focusing. Basically what I do is I normally have some apps that help organize my feed in a way that I would like to post it. It allows me to post it in the order that it would look right on the page, so it helps with planning. I normally like to create outlines on Sundays so I can see what I have up next whether it be with my business or with posting….just to know what time and what orders everything should fall into place.
Let's talk about HUE! Tell us a little bit about HUE and the process of creating your own business.
First, like I originally said, I started off as a graphic designer/artist with painting and drawing and I wondered what can I do besides selling art frames would allow me to expand my material on a different medium. So, I decided putting things on clothes because i'm interested in fashion and color. So that's why I basically came up with the name HUE and said i'm a fan of color and how color allows us to express our emotions. I wanted people to be able to relate to that. HUE is basically a brand that is a color experience and we like to represent your personality through whichever color makes you feel good because when you look good, you feel good. So, when it came down to designing, I realized once i finished the design i'd have a hard time picking the background color because on the color wheel there were so many different possibilities. So i started to relate that to how life is, and i realized there's no limitations and there's so many possibilities on the color wheel, there's no limitations within art color theory. I applied that same type of theory to my brand and decided it should be a color experience that allows you to feel good about yourself.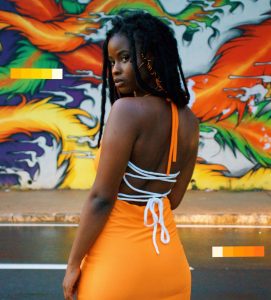 How has social media played a part in becoming a successful business owner?
Social media definitely helps. I've noticed that it brings you a whole different audience. People wouldn't really know if your business was active and available for service if you necessarily didn't put it on social media, because right now a lot of people are using social media to find out a lot of information. What I realized was this type of engagement, it really does help bring traffic to your website or just traffic to all your ideas or whatever you have to show. For me, my social media comes out like a portfolio. I'm able to visually represent myself and my brand in the way that I want to so that people can relate and understand the vision that I have. So, I can really see how it can help businesses because you get a visual impact instead of just a name.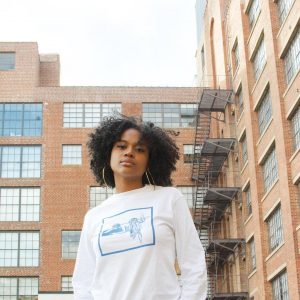 What does a typical work week look like for you?
Well, I am in school so typically im in class, but in between class like I said I do outlining, brainstorm ideas, I work on my iPad and sketch ideas. I also get with some of my friends who give me good advice on what direction i should go in. I also create mood boards as well, that's very helpful for me. And also I do a lot of research on like YouTube on how to DIY things and set up different types of stuff for my brand.
What has been the biggest challenge you've faced in creating/owning HUE?
I think the biggest challenge was…well 1. It was believing in myself. But I got over that, the self-doubt part. Basically trying to do everything yourself because I was doing that for the longest time and now i'm trying to get people in to help me do videography or help me run the social media content and stuff. Starting out, I thought I could just do everything myself but I had to learn that the team effort definitely helps because it allows you to focus on other subjects or areas in the business that may need more attention than others. You can't just do it all yourself unless you have…I don't know eight arms?
Back to your personal content, what message do you want to get to your followers from your platform as a content creator?
Yes, I definitely try to push a positive message most of the time  saying that…because i really believe there are no limitations in what you want to do because I definitely learned that in my first couple years of college. I just try to make sure that my followers know that anything they set their mind to, with a little hard work, dedication, and consistency, they can definitely achieve whatever it is that they are looking to gain.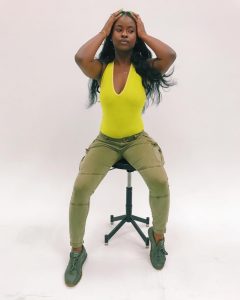 What are some highlights of your time as an influencer or business owner?
As an influencer,  I would say certain gigs that i attended through being an influencer. One event was called an African Pride Event, it was a hair show, so that was very interesting. That was my favorite thing. And I learned that there's all kinds of types of jobs and gigs that you can get from social media. So that was very interesting to me. And for HUE, I would say the fashion show and pop-up shops. I had both of those for HUE and those are like really significant within my journey. Just to be able to do that within my first year of starting it, so those are definitely some highlights.
Do you have any advice for someone trying to start down a similar path as you today?
I would definitely say if you have a dream or a vision and its clear to you, as long as you can see it, you can be it. So like I said the limitations, there are none. And anything you want, you just set your mind to it and keep that dedication and consistency with the hard work, there will be a day when you see all the results reaped from that. But in simpler terms i would just say if you can see the vision, you can be it and there's no limitations placed upon that. You should just go and get it.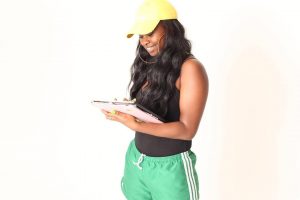 What is the end goal for your platform?
I would say my end goal would be financial freedom really. I want my business to grow into something I can mass produce and even probably open store fronts and run it online for the most part. And personally, I would want just financial freedom, just to do what I want freely and travel and enjoy the world freely without being restricted by any sort of workplace. Because I guess I wasn't built for the workfield. That's really my end goal…I just see myself being free financially and obviously just being able to travel, enjoy life, art, and all the other things the world has to offer.
Lastly, what is something people may not know about you from just following your blog?
They probably don't see my goofy side as much. I am really goofy. I am a bit goofy on social media, but you don't want to get too much of that because people won't take you as seriously. But that's definitely something my followers don't know about me. I'm really goofy and awkward outside all the other stuff.
Find Natasha on Instagram at @natashante
Find HUESHOP on Instagram at @huetheshop and see their site at huetheshop.com