Pro Tip for this week's The Plug Spotlight: Turn you haters into your motivators! That is exactly what Kate, the creative wizard behind @pretaportkate, did when she started out as an influencer. "I was actually cyberbullied, ironically, in high school pretty heavily, and I didn't have an outlet to express what I was feeling and express who I am. So I started putting my life on the internet just for myself as a creative outlet, then I found myself creating a community around myself."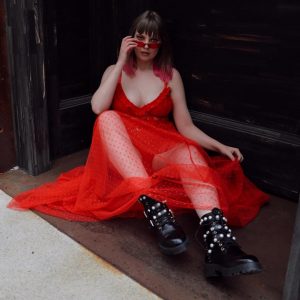 Based out of Atlanta, Kate is about as real as they come. Whether it's strutting her ultra-trendy sense of style or being super raw about self-confidence and positivity, Kate is your perfect online BFF. "Everybody who is an influencer, it grows because there's something about them. For me it was my personality. The way I talk, the way I act, it's what makes people ultimately stick around. And I've had people tell me after they meet me in real life theres no like 'whoa, you're super different' or 'man, there's a huge disconnect'. I pride myself on the fact that the internet me, so to say, is the same as the real me." Just from the hour long interview call we had, we can definitely vouch for this. Kate is a true ray of sunshine that shines just as bright as her colorful social media feed.
Even without reading her captions or meeting her in person, there's something undeniably intriguing about Kate. Her unique edits and fantastic style make her posts STAND OUT in your ever-flooded feed of content on Instagram. Her creative expertise actually led her to her 9-5 career as well. "I was an influencer before I was an art director, and I didn't realize that I was ultimately art directing everything for my personal life…and that's ultimately what an influencer is." Talk about turning your passion into a career! At the same time, her job as an art director also helps on the influencer side as well. "Being an art director in creative advertising definitely helps, it's a really big plus when pitching myself to clients because it tells them I know how to advertise and market your product in an interesting way." Can we just take a moment to acknowledge what a total #LADYBOSS Kate is?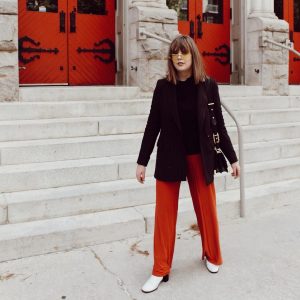 Like many people in the world, Kate has found an incredible community of support online. We are going to have to apologize to mom on this one: talking to strangers can actually be really amazing! "It was weird having people who don't know you be more invested in you than the people who do know you. [It was] was super mind blowing to me." While it may seem scary to put yourself out there on the internet, Kate is living proof of the beauty that is Internet Communities.
The creativity displayed on Kate's account makes her content not only relatable, but holds a unique aesthetic. We asked Kate about where she gets her unique ideas from and she talked about the inspo she gets from her community and other Instagram influencers. "Probably one of my biggest inspirations is Tessa Barton (@tezzamb) she has a pretty incredible Instagram account. It's all about telling stories and that's what I tried to do with fashion and beauty and all that," Kate tells us, "I always love scrolling through the explore page on Instagram or magazine editorials."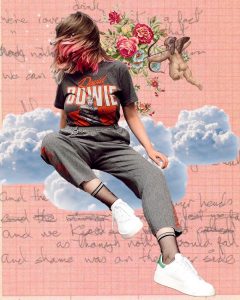 Let's talk about style. One of the first things you'll notice when you land on Kate's Instagram is how incredible her sense of style is. "I try not to overthink it a lot. I love streetstyle or anything in that realm," Kate explains, "I really like Off-White. I like pulling things from unexpected places. Something about that particular label, they pull things from earplugs and chains and moving belts and create clothing out of that and it's kind of cool because it shows people you can make clothes out of that. It makes fashion a little bit more mentally accessible and grounds people that you don't have to buy Louis Vuitton or something to be stylish." Her mix of masculine and feminine qualities of style combines to make something fabulous, yet relatable. BRB saving all her posts to our style inspo collections!
Kate's outlook on individuality and being who you are is also something that stands out from her as a person and online. Coming from being cyberbullied, it would be understandable to close yourself off from the world and try to become something else. However, Kate flips this notion right on its head. "I think my main message is to just be yourself. Comparing yourself to other people and trying to be someone else hinders you from being yourself and because everyone is so individual, everyone has their own super power and everybody has a voice or opinion, something to bring to the table." And boy are we HERE for the true Kate!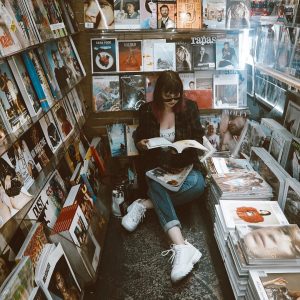 Another definitive Kate Quality is how wise she is, well beyond her years. When we asked if she had any advice for aspiring influencers, her answer was something straight out of a movie we wish was made.
"I used to be told in high school that a lot that success comes in front of work only in the dictionary and I definitely agree with that, however, passion comes before both of those in the dictionary and in real life. So if you don't love what you do, you won't put in the work to be successful. Loving what you do is super important and it takes a while to figure it out but once you do it's like when people say when you meet the love of your life you just kind of know. It's the same thing, but with a job."
Finally, we talked about what you may not be able to learn about Kate from just following her account. We were again overwhelmingly impressed with Kate's raw honesty and relatability. "There have been some not great things that have happened in my life that have pushed me to become more active on the internet. For example being bullied, I also have Chrohn's disease, also that I'm a sexual assault victim and I don't really talk about these things on my account because in some sense I feel like it's going to make me look lesser, although I realize that it won't." She goes on to explain further, "But a lot of people just look at instagram as a highlight reel and [think that] everybody's life is perfect, but we all have our senses of struggle and for a lot of creators that is what pushes them to put their life on the internet because sometimes you need an escape from what's happening in the real world." If this isn't the definition of real, we don't know what is. Like we said before, Kate is your next internet BFF and we are certain you'll become just as obsessed with her as we are. Go check her out if you dare!