Cotton / @cotytolly
The Basics
Full Name: Cotton Tolleson
Occupation: Influencer

Social Media Presence
Did you decide to become an influencer? When I first started I didn't know what an influencer was. I am a makeup artist and was at a crossroads in my life. I was having a lot of health problems and I found out I had MS and fibromyalgia. Working on sets became exhausting and very painful. My best friend suggested I start posting on Instagram and I can't thank her enough for that. It opened a new world for me.
What was the motivation or transition? My motivation is to inspire others with invisible disease that they can follow their dreams. My disease doesn't define me and that's what I want other people to realize that for themselves. I want to empower others to define beauty for themselves.  Competing only with myself also motivates.
Tell us about your experience as an influencer living with MS and Fibromyalgia. It's the best job for someone like me. I can take the day off if I'm experiencing a flair/relapse. I've recently worked with a brand that focuses on influencers with chronic conditions. When I made my video about having MS and fibromyalgia I was overwhelmed by the support. Michelle Phan publicly supported me. I have audience members that also have autoimmune disease that told me that they didn't feel alone. They used that video to share with family and friends to get a conversation going because so many of us are misunderstood. Of course there's times when I really want to create but I have to put my health first otherwise I'd end up feeling bad for much longer.
When you first started, did you have a specific goal in mind for what you wanted to come out of having this platform? When I first started I wanted to create looks that were fun, that I liked, and that my followers/subscribers could recreate. I discovered my passion for creating content and connecting to my audience.
How has that goal changed since then? That's still a very big part of my goal. Being an advocate for autoimmune disease was something I decided in June 2018 and it's one of the best decisions I've ever made. I also want to continue being a full time influencer.

Creative Work
How did you first get involved in makeup? I was a model as a teen and I quickly fell in love with makeup. It made me feel more confident and that is powerful. I actually wasn't allowed to wear makeup until I was 17. My mother bought be Kevyn Aucoin's books. I got burnt out on modeling and the makeup artist I worked with for years suggested I get certified. She took me under her wing as an assistant.
Where do you find inspiration for your makeup looks? My main inspiration is nature because it is full of beauty. I love the colors of everything from flowers to bugs. Music is really inspires me too.  I also love modern interpretations of the 90's.
What's your favorite look you've ever done? The video post I did for Pride because it was a tribute to someone very close to me that passed due to AIDS complications.

Workflow
How do you stay organized? I use a planner and a lot of post its. When I have an idea I write it on a post it and stick it on my mirror. I also use the notes app on my phone. I have designated days of the week that I are content days.Are there any tools/tricks you use? Mood boards help me a lot. My creating space is very relaxing and sound proof. The less distractions the better. I think it's really important to reply to as many comments as possible and reply to DMs. Posting and uploading as much as possible. Story shares that show vulnerability and not just the Instagram life really helps people to see that I have struggles just like they do.
Speaking of tools, what's your favorite feature of The Plug? The templates for what to send to brands is really helpful because I get so nervous writing emails.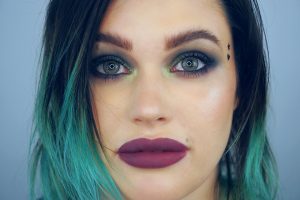 Mission
Do you have any advice for someone who might be thinking of starting down a similar path as you? Start right away, be yourself, create content you'd like to see and don't give up.
Do you have a specific message you want your followers to get from following your platforms?  To define beauty themselves and not follow a stereotype.

Behind the Curtain
Any exciting projects coming up for you in 2019? I do! All I can say is wellness.
What's something people may not know about you from just following your account/ Do you have a special talent? I play guitar, sing, and enjoy archery.
*BONUS* Is there anything else you want to share with The Plug Community about your journey or your story as a creative? Think outside the box and try things you haven't seen anyone else do. Video posts are very important and creating your own style will set you apart.