Paris /@therebirthofparisc
The Basics
Full Name: Paris Shay Chanel
Occupation: CEO of The Paris Chanel Agency

Social Media Presence
Did you decide to become an influencer? What was the motivation or transition? Yes, I am always trying to stay on top of new things that develop for myself and for my agency talent so that I can properly teach them. I don't believe in teaching others things that I haven't experienced myself.  In the process, I fell in love with being an influencer.
When you first started, did you have a specific goal in mind for what you wanted to come out of having this platform? How has that goal changed since then? Yes, I definitely wanted to connect with brands that I truly love and build long term business relationships.  The goal has remained but enhanced.
How do you manage to stay so creatively inspired? I am always following like minded individuals or other influencers/bloggers that have similar styles as mine.  I stay on top of everything to see what new trends are happening. I am also signed up to many influencer related newsletters to keep up with what's new/old in the industry.
Do you have a specific message you want your followers to get from following your platforms? To love themselves, and that they can do and be anything that they say they can! Never let anyone tell them less.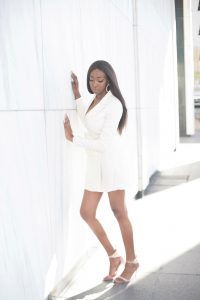 Workflow
Not only are you an influencer, but an entrepreneur/CEO, model, and actress! As a busy woman, how do you stay organized? Are there any tools/tricks you use? I literally keep me a written schedule and my schedule in my phone. I set 1 day and 1 hour reminders of events so that I can make sure that I remember everything.  I always recommend everyone do that if you don't have an assistant.
Speaking of tools, what's your favorite feature of The Plug? My favorite feature is definitely the contact swap.
Tell us a bit about being a female entrepreneur, what does your workflow process look like? My work process is definitely not a consistent everyday routine.  It changes from day to day depending on what I have on the agenda for that day.
How do you manage to stay motivated while juggling your various careers? What do you do on days when you're feeling less motivated? Some days are hard.  I have to be honest about that, but I just tell myself that this is what you love so you have to keep pushing. I pray and I sleep things off sometimes.  Then I wake up from my refresher nap and get back started.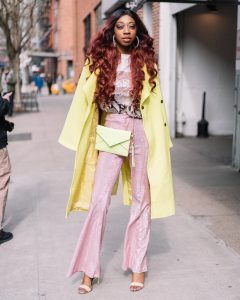 Behind the Curtain
Do you have a mission statement? My mission statement is to provide true professionalism and high quality content to better suit your brand and increase awareness.
Do you have any advice for someone who might be thinking of starting down a similar path as you? -(modeling, entrepreneurship, partnering with companies, etc) My #1 piece of advice is heavily do your research before diving in head first.  I've had to learn a lot of tough lessons through trial and error.
You were the winner of the NYFW trip from The Plug's giveaway, how did it feel to win that trip? What were you most excited for? It was literally a shocking moment for me.  I wasn't expecting to win after seeing someone had jumped ahead of me.  I was definitely feeling a bit discouraged knowing how hard I'd worked. Then when I woke up to the email, I shed some serious tears (joyful tears).  I was most excited for actually attending a show in NYFW with such talented designers.
How did you market The Plug to the literal hundreds of homies that you referred who signed up? Where did the best response come from? I marketed The Plug in several influencer forum apps and many Facebook groups.
What's the most exciting thing coming up for you in 2019? I finally got my first home today so that was exciting! I was interviewed for a Forbes article, so I am ecstatic for that to come out.  We will see what great things are in store other than those 2 things. 🙂
What's something people may not know about you from just following your account/ Do you have a special talent? I am a math and chess nerd haha.