Natacha / @tach_s_j
The Basics 
Although difficult for most, Natacha Saint Juste has cracked the code of multitasking. With a day job focused in nursing and a passion centered in fashion, she wears more hats than we can count. Currently, she runs the fashion line Saints by S.J. with her sister and co-founder, Anise Saint Juste, while also working as a radio host and a massive internet personality — 13,300 followers and counting! Although the various platforms on which Natacha maintains a presence are vast and varied, she maintains that she doesn't yet have a favorite, and is simply enjoying being a renaissance woman as of right now. 
Natacha's family comes from humble roots, and in our interview with her this week,  she spoke about how her father's tenacity growing up funneled largely into her own passion for design and commitment to hard work. When asked what her inspiration for Saints by S.J. was, she replied, "Our father inspired us to follow our dreams. He was born in Haiti in one of the poorest countries in the western hemisphere. At the age of 16 his father died, leaving him to take on the roll of being the man of the house and providing for his younger brothers and sister. He was the oldest of 5 and made a small earning being a tailor. Our father persevered against all odds. He has always encouraged us to follow our dreams and design with our hearts. He is the one who taught us how to sew." 
Natacha's father instilled in her and her sister a passion for design from the get go. She describes her childhood in relation to fashion, and speaks nostalgically about her and her sister's formative years creating makeshift designs and childish fashion experiments. She says, "Fashion has been my passion since I was 8 years old. I used to love cutting up my doll's clothes and reconstructing them into new pieces. [My sister and I] got started in fashion by making outfits to wear to school. This started with simple skirts, bottoms and reconstructing t-shirts. It's not until I was 20 that my sister and I decided we wanted to start a clothing line business." This passion clearly followed her into adulthood, and she attained her first gig in fashion at a college fashion show at her university, Johnson & Wales University in Providence, RI. Her work hasn't escaped her since, and she continues to explore new avenues within the design world. Her career with Saints by S.J. has been a catalyst in taking her around the world, the most memorable being her time in Jamaica, where she started her first boutique.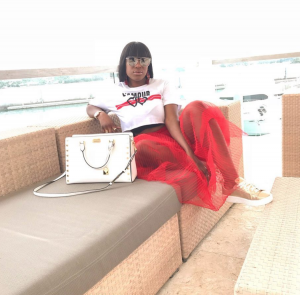 Workflow
Since starting her career in the fashion industry, Natacha and her brand have seen a multitude of accomplishments, the most notable of which Natacha says was the first time she and her sister were featured on Better Connecticut, a CT based news site that covers local companies and stories. Apart from her clothing line, she also maintains a huge following on Instagram, and uses social media frequently to not only update her followers on the happenings of her business, but also engage with her audience to keep up with current fashion trends and styles. Her favorite design she's ever created was "Maddie" from the Saints 2016 spring/summer Eden collection. When asked which, if any, parts of her life she preferred to keep private and offline, she responded by saying her family was rarely on her accounts, and she planned on keeping it that way.  
Although there are some aspects of her life she keeps offline, her styles and daily outfits are almost always featured on Instagram. She believes the best thing her platform has brought to her life is, "connection to other creatives and influencers. I've met and worked with some talented individuals." When asked about The Plug, she says, "I love the many innovative creatives it shares. The PLUG is truly "The plug" — plugging you into a world filled with undiscovered talented individuals and influencers. I love that this platform allows you to connect with brands and businesses all over to help create new content and get paid for it." 
Alongside collaboration and exploring new content, Natacha also speaks about how she enjoys "using the platform to inspire other young girls to follow their dreams." This desire to inspire young women does not stop just at her platform — Natacha outlines her career values around the concept of female empowerment, and explains that she really values being a woman with morals, and the ability to work for what she has. The most important part of her career is being able to be her own boss, a sentiment we understand is linked to this desire to be an empowered and confident woman. She states, "I love the empowered feeling you get from being a business owner. The feeling that you can conquer the world. It's indescribable."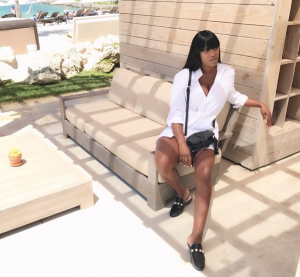 Behind the Scenes
By this point, we're all aware of how much of a #ladyboss Natacha is. But, the talents don't end there. Although her sense of style has now taken form in the world of fashion, she did begin her career as a hairstylist braiding hair in a barber shop — is there anything she can't do? 
Apart from hidden talents, she maintains that the reason for most of her success is consistency. We asked her for some advice after learning about how incredible she was, and she responded with, "Consistency, stay consistent no matter who laughs, and doubts your talent. Stay consistent even when the support from friends and family is not there, stay consistent when days get tough and you want to give up, stay consistent because you never know who is watching your grind and who you're motivating. Also know you market and master it."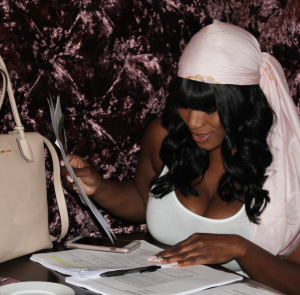 Goals and Aspirations
While Natacha has clearly exceeded most if not all boundaries of success, she continues to push further for more. A main goal she sees for her business is globality, but for now she's focused on her upcoming project — a new collection, where she'll be working with a new recording artist as her exclusive designer as well as a design studio. Her parting note with us was, as expected, inspirational and motivating — "My sister and I have never been to fashion design school. We take so much pride from being taught this talent to sew and design by our father because this gift has put us in the room with people we could've never imagined."