Jourdan Parker / @whoisjourdan
The Basics
Full Name: Jourdan Anthony Parker but my radio name is Jay Anthony!
Occupation (Day Job + Passion Occupation): Right now I'm a full time student at Alabama State University currently in my summer term, so I can graduate in December of 2019. I'm also a social media intern/host at my hometown radio station WGVE 88.7.
Tell us about your time at Alabama State — what are your majors and what called you to them? Man, where do I start? Alabama State owes me nothing. But I do owe them.. haha! I knew I wanted to be in the entertainment industry so I chose theatre for my major. I was a theatre major my freshman and sophomore years but I changed it to communications radio & television. It was the best decision I could ever make. State has shaped and molded me into the man I am today. My freshman year I would say I had a hard time adjusting because I'm all the way from Gary, IN away from my mom, yes I'm a momma's boy. Also, away from my friends. I wanted to leave Alabama State so bad until I started actually socializing and getting out around the school. I was so depressed about being there and I never really gave it a chance. Never limit yourself and don't be afraid to something that can possibly change your life. Because Alabama has done that for me. I would say it has helped me find myself, I found my life long friends, and most importantly, I found peace.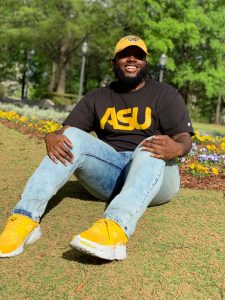 Social Media Presence
What inspired you to start on social media? Did you have any doubts or insecurities about it initially? I started social media heavily back in high school my sophomore year. I was insecure mostly about posting pictures because I was teased about my appearance from my weight to how dark my skin was. I've come a long way from that and now love the person I am. Those same people that used to talk about me comment heart eyes under my pictures on Instagram, Snapchat, & Twitter. All of the above.
How do you think Alabama has helped shape your career on social media? Do you think being a student has helped or harmed your presence online? I would say that State has helped my social media presence through communicating with my peers, my social media presence, and it also helped my resume. That's how I got my Monster Energy Drink Ambassador position.
Do you have a favorite part about your platform? The favorite part about my platform is being in touch with a lot of my followers — I love networking. Networking is key. Just communicating can get you anywhere.
Speaking of favorites, what's your favorite feature of The Plug? My favorite feature is being able to potentially look and see the possible collaborations and networking with the other influencers.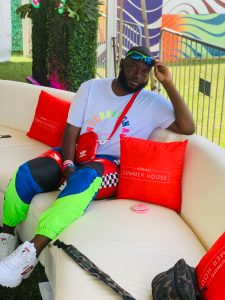 Work/Life Balance
What's it like working as an influencer while also being a full time student? Is it ever difficult to balance? It's definitely hard to juggle. For instance, I have assignments after assignments, that require me as a communications student to do interviews, a lot of editing, and also more networking. I also dabble in campus activities and clubs. As a Monster Ambassador I have to set and execute when to do an event or otherwise it won't get done & it has to get done because I need that coin. I have events that are due every month on the 15th & the 30th. So I try to do events on my least busiest days. Time management is the key to balancing your priorities. 
Is there a certain trajectory you see your career following? Where do you see yourself in 10 years? I see myself well established off into my career, setting the bar high & being able to help and mentor people lost once like I was. Also, I see myself having my fine husband along with our penthouse over downtown Chicago. I'm available haha.
How do your classmates and peers react to your presence online? My peers always talk about my pictures, that they look so professional and that I should model. I mean I don't wanna toot my horn. But TOOT TOOT! Also, they would say I'm hilarious. I'm one funny motha- SHUT YO MOUTH! That was corny but who cares? I KNOW IM FUNNY!
Are there certain parts of your life you choose not to put on social media? I don't leave anything out. All my trials and triumphs I will openly talk about because sharing your story can simply save someone who's going through something similar that you went through.
What's your favorite thing about being a Monster Energy ambassador? My favorite thing about being a Monster Ambassador is knowing that I have control of changing someone's perspective and influencing them to try something new for once. I say that because most of the kids on campus will look at Monster Drink and say ew and that those things will kill you. But once I get through to you you'll be coming back for more once I'm done with you.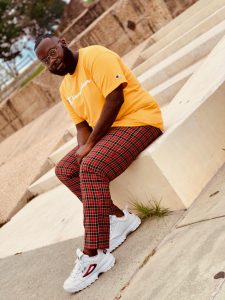 Behind The Scenes
What are some words of advice you'd give to someone that was just starting out in the blogger/influencer industry? The advice I would give them is to be open to criticism. Criticism helps build you and makes you stronger. Also, just because you have this amount of followers, doesn't mean nothing — use the follow count your advantage. Brand yourself and turn yourself into something even bigger. Invest in yourself.
Any exciting projects coming up this year? I will be graduating from Alabama State University with a bachelors in Communications Radio & Television, I'm in the works of starting a body oil business for my African American women out there, and I'm speaking this into existence, but I plan to have at least 2 radio jobs secure before graduation. 
BONUS: Is there anything else you'd like to share with us? As I mentioned, I struggled with finding myself, being comfortable in my own skin. Today, I'm more than happy with myself, comfortable with my sexuality, and I just want to let people know that depression is real. I'm a survivor and I want to tell you my story that you're not alone and that I'm here.