Wendy Packer / @fashionoverfifty.wendy
Early Career & Industry Change 
For someone as nifty with fashion as Wendy Packer, fashionista and Plugger extraordinaire, you'd never be able to guess that the start of her career was in something not only entirely different, but alarmingly uniform in its style: the legal world. Leaping from a career in law to a now 18,000 audience strong fashion influencer account, Wendy Packer has experienced the ins and outs of two very different industries. When asked what prompted her to make this leap, she replied, "It really wasn't my choice. I stayed home with my kids for 15 years, and when I went to get back in to the workforce, I found so much ageism. My friends tell me it starts in the age range of 40.  So, since I couldn't get a job doing what I was supposed to be doing, I picked something I have loved all my life — fashion — to write about." 
Although Wendy maintained a career in law for a portion of her life, her passion for fashion has always been a tenet of her personality & talent. "I have always loved fashion. My girlfriends always asked me to go shopping with them because they liked what I selected for them. After high school I would have loved to have gone to design school but it wasn't really a viable option 40 years ago." In fact, before Wendy was a lawyer, she maintained a career has a Registered Nurse for seven years, a professional she still believes has overlap with her other careers. She explains, "I was a Registered Nurse for 7 years before becoming a lawyer. I have always been in a service business helping sick people, clients who have been sued, and now helping to inspire women Over Fifty on how to dress. The biggest difference is that fashion is a lot more fun than being either a nurse or a lawyer."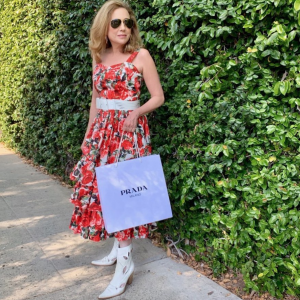 Fashion
Today, those that doubted her initially have come around — not only because of her enormous success across multiple social media channels, but also because of the sheer commitment she has to her craft. She says, "At first my friends thought that it was a crazy idea, or that it was just a hobby. No one took me seriously. When my facebook page reached 25,000 followers people were impressed. Now I have over 280,000 but I have been doing it now for 6 years." Not only is Wendy committed to the craft, she has maintained her own niche within the industry for the past six years. As her brand suggests, she is an advocate and speaker for women over fifty, and the lack of representation that oftentimes comes with that age group in the fashion industry. 
Wendy's inspiration for her brand comes largely from experience and a general frustration with the way the industry portrays older women. "I was inspired to start the brand, Fashion Over Fifty, because women were stuck with society's image of grandma staying home and baking cookies," she says. "There were just a few bloggers when I started. My goal was to help women feel relevant and to be noticed in a good way. It was surprising how many women were judgmental of other women trying to look stylish in a youthful way (not looking like your daughter). New boundaries needed to be jostled around. For example: Is cleavage okay? Are short skirts okay? What about BodyCon? On my blog there is a long article 'Cleavage vs. No Cleavage.' I was inspired to help create new boundaries so that women Over Fifty would still look stylish and current. Six years ago suits and traditional clothing were not in style, and it was a challenge. Every woman over fifty needs to have a blazer in their wardrobe. It can be dressed up or down, and it gives an overall polished look. I have found from my Facebook readers that they still want to look 'put together,' but they don't know how. On my Facebook page I have a feature called 'Would you wear this?' I post inspirational ensembles to help give ladies ideas. If they wouldn't wear it, I ask, 'how can you make it your own?' So, I challenge the readers to think outside their comfort zone." 
Outside of her influencer account, Wendy does in person workshops and fashion shows as well. Her proudest moment is a fashion show she produced and directed at Bloomingdale's in Chicago. She explains the show, saying, "I created a course for the women to help them feel confident on the runway. I had runway coaching, makeup classes, styling sessions and camaraderie between all of the women. I would like to do a full week program where we have inspirational speakers, one on one sessions with makeup artists and a more intensive workshop that will hopefully change people's lives."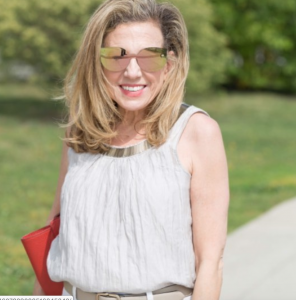 Favorites
While Wendy is constantly advocating for the representation of women over fifty in the industry, she's also championing for affordable clothing and reasonable bargains. She says, "My favorite place to shop is at 'The Curated' — owned and mostly with designs from Christian Siriano.  When his things go on sale, they are reasonably priced, and each piece is unique. You get wonderful service there as well. Other than that I like anywhere I can get stylish clothes at a bargain." When asked what her favorite feature of The Plug is, she replied, "I love all of the great brands that The Plug offers."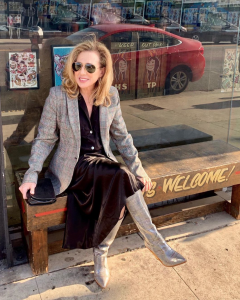 Outside Fashion
Wendy maintains a plethora of talents and roles outside of her fashion filled lifestyle. As was mentioned before, she is a mother, nurse, lawyer and even a Shaman while she's not on her fashion grind. She explains her background in Shamanism, saying, "I have studied Shamanism for 11 years. It is energy medicine. I truly know that all of our traumas, illnesses, and such are stored in our bodies. Energy medicine helps find where the energy is stuck, and then helps release it from the body. The more your energetic field is cleared, the easier it is to find your purpose in life. I believe all of the energy work helped me do what I am doing today with women over fifty: styling, producing fashion shows and being a good role model, I hope." In fact, she's currently in the works of planning these workshops to further her own impact in the industry. "I am planning a one week intensive workshop for the fall. It will include vision boards, lectures from experts on how to reinvent yourself, runway classes and more. The event will end in a fashion show where all of the models' friends and family would attend." Is there anything she doesn't do?!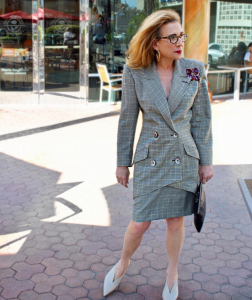 Looking Forward
While Wendy's platform seems larger than life now, she, like everybody, started fresh. When asked what, if any, advice she'd give to someone starting out in the fashion industry, she replied, "For people just starting out in fashion, there is always room for one more. However, it is pretty saturated with influencers. My advice is to find a signature look, idea or whatever. Something that distinguishes you from everybody else.  Mine is my curly hair which I wear just half of the time because it really is harder to deal with than straight hair. Figure out a niche where no one else has a presence and go with that. Also, follow your passion." Wendy has a good grip on her niche, and is confident in your ability to find one too! 
As her career progresses, she's not stopping or backing down on any front. This includes furthering her education, which she's accomplishing currently at FIT — the Fashion Institute of Technology. She says, "I am getting a certificate at FIT in Image Consulting. I really want to know the rules of styling and then branch out on my own. I also think the baby boomers still like the styles from the 60's, some of the 70's and a lot of the 80's. I can incorporate that into a contemporary look that is "age appropriate" and fun. I am a service oriented person and the thought of being able to help style women over fifty is very exciting."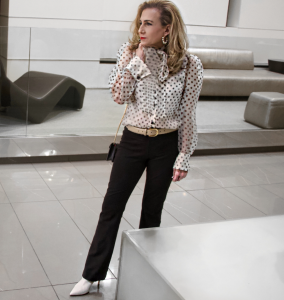 You can follow along with Wendy's Fashion Journey at @fashionoverfifty.wendy