The Tip Jar 
This Week's Tipper: Kate Chu
We were able to chat with our very own Plugger, Kate Chu, about her tips and tricks to building a platform. Kate is a second year student at Northwestern University, and is interested in all things fashion, modeling and travel! After moving to the windy city all the way from the Bay Area for school, she began her career as an influencer and began to grow her platform! Kate keeps her followers regularly updated with stories of beautiful views, university life, and even little insights into her daily happenings. She not only documents her content on Instagram, but on VSCO as well — sharing images of her family, boyfriend, and various musical festivals she's attended. For this installment of The Tip Jar, Kate goes over topics surrounding how to stay safe during collab meet ups and how to up the content you put out on your platform. From urban photoshoots the pepper spray in her bag, Kate's interview is a full service tips and tricks gold mine, so be sure to give it a read! Thank you for the Tips, Kate!
Q/A with Kate Chu
1. As someone who is meeting many people off the internet, what are the most important things to keep in mind to stay safe?
When you're first getting into collabing with people, bringing a friend is definitely a good move. It's always nice to have someone with you and it also makes you more comfortable. Never do anything you're not comfortable doing, and communicate your discomfort.
If bringing a friend isn't an option you can also do some research. Check out some other people they've worked with and ask what it was like for them. 
When you actually meet up, choose a public place where there'll be a lot of people. Unless you're 100% confident that they're reliable people or have worked with them before, don't meet them at their home. 
2. What is your approach to making new connections with other influencers offline?
If you're near a metropolitan area, there are tons of groups that love doing meetups! They can be a little overwhelming but it's a big group of people that all want to meet other people. I'm personally pretty introverted so going with a friend is helpful for combating awkwardness but don't be afraid to just put yourself out there!
3. Where is your go-to meet up spot? Coffee shops? Photoshoots? Events?
My go-to meeting spots are usually big urban areas. It's great for photoshoots, meeting new people, and casual conversations. I'm from Chicago so there's a ton of that.
4. Was there ever a time that you felt unsafe after meeting up with a new connection? What was your strategy to fix the situation or clear up shakey gut feelings?
I've definitely had weird experiences meeting up with some people. Sometimes people say the wrong thing, the location is weird, or maybe they bring along some people and didn't mention it beforehand. 
To make myself feel safer, I usually turn my location on and tell a friend or family member where I am before I go. The second I feel unsafe, I'll text someone and tell them about my situation. It's always a good idea to have a fully charged phone or bring a phone charger with you. I also keep pepper spray with me at all times, not specifically for photoshoots but because it gives me peace of mind. 
If you do feel uncomfortable or unsafe, it's important to get yourself away from that situation. Making up an excuse like "I don't feel well" or "Something came up" usually works well. If they pressure you to stay, get out of there! 
If really bad things happen during the meeting, it's important to keep others safe and let people know about your experience. This doesn't always mean putting people on blast but it is important to build a safe community so I'll usually tell my friends and others in the community about the individual.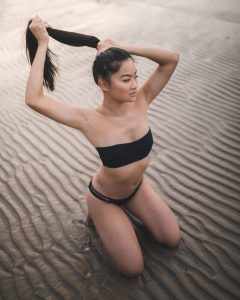 5. As a nano-influencer, have you found that brands have a positive response to the level of engagement that comes from your audience?
As a student, I work with a lot of brands that wants more exposure in younger generations. I also work exclusively with brands that I would genuinely support. This means I put more effort into my posts and maybe put in a little extra. In general, brands seem to appreciate authentic interest and engagements more than people just trying to get brands under their belt.
6. What has been your greatest brand partnership? How did you go about getting what you wanted out of the collab?
My greatest brand partnership has been with My Clarins. They reached out to me through College Fashionista and we emailed back and forth. Before I agreed to anything, I made it clear what I was capable of doing and what I was not capable of doing and we discussed compensation. I think communication is 100% most important in any collab.
7. What is the most common issue you come across when setting up a new partnership? 
A lot of brands can take advantage of people on social media. This means they don't give appropriate compensation for what they're receiving. They can try to leverage you by telling you all the other people they've worked with before, how many followers they have, etc. 
8. How do you deal with that situation?? 
It's super important to know you're worth no matter where you are in your career and hold yourself to high standards so others treat you the way you should be treated. I usually let them know that my time is very valuable and that the work I put in should be reflected in what they put in for me.
9. What would you like The Plug community to learn about your strategy? Why is it important to know? 
It's easy to feel like you need to snatch up every opportunity you get, especially if you don't have a million followers. In reality, the way you spend your time working towards your goals are way more important than the number of things you do to get towards your goals.